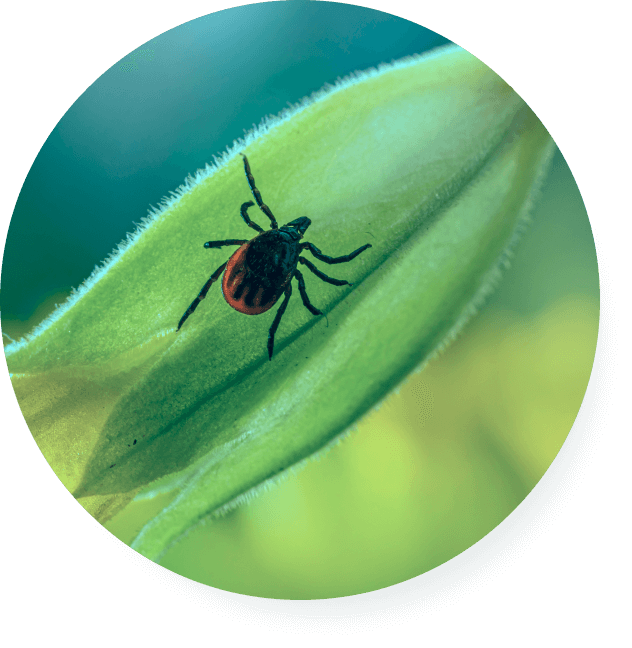 workspace_premium
Trusted leader in Tick Testing since 2006
Need a tick test?
A piece of data is peace of mind
Order a comprehensive TickReport™ tick analysis by mail and learn what disease causing microbes the tick may be carrying, including the pathogens in Deer ticks that cause Lyme disease.
Order a TickReport
How Tick Testing Works
1

Place Your Order

Our $50 Standard DNA per tick testing package detects for seven different pathogens in Deer ticks (Blacklegged ticks) that cause Lyme disease, and eight different pathogens in non-deer tick species, including tests for Rocky Mountain Spotted Fever (RMSF) and Southern-Tick Associated Rash Illness (STARI) in Lone Star ticks. We also offer testing packages that detect a wider array of potentially disease causing pathogens in both humans and animals.

2

Mail Your Tick

Place your tick — whole or partial — in a plastic bag and mail it to our tick testing lab. We will identify it and determine the correct tests to apply. For Massachusetts residents: you may also hand deliver your tick to our laboratory.

For fastest tick test results, we suggest using UPS or FedEx next day delivery service.

3

Results Emailed In 1 to 3 Days

Your specific tick test results are securely and privately delivered via email no longer than three business days after your tick sample(s) arrive at our lab for analysis. Most results are delivered within 24 hours of your sample arriving at our lab.
View Plans & Pricing
Tick Testing FAQs
Place the tick inside a sealed package, ideally a zipper lock plastic bag. If you are ordering tick testing for multiple tick samples, use one sealed package per tick for test analysis. Then place the zipper lock bags containing the samples in an envelope of your choice. While not required, if you have one on hand we recommend using a bubble wrap envelope. Clearly label any bag containing a sample and the envelope with your name and the six-digit TickReport™ order number provided.
We guarantee secure and private results via email within three business days of receipt or your tick sample(s). Test result emails are sent to you with a private URL. Note: you will also receive an email notification when we receive your sample(s) for tick testing and analysis.
Ticks are tested and analyzed in the order we receive them at our lab. Standard test results are typically ready in one business day. During busy times of the year advanced testing packages may require longer, but all results are guaranteed within three business days. While we understand that every tick is a priority for the individual who sent it, we perform tests as quickly as possible without sacrificing the quality and accuracy of the results.
Ticks can be stored for months, or even years, under a variety of conditions and still be successfully tested. There is no need to store or preserve a tick sample with any alcohol or preservative, but if you have done so it will not effect our ability to test the tick specimen. Avoid storing or soaking the tick in bleach, as that may damage the DNA or RNA of the pathogens we target.
Absolutely. Your personal contact information is only used to send your results. Generic information like your tick bite are included in our passive surveillance, but there is no link with personal identity. For example, we may report the number of ticks found on adults aged 21--45 in a given town, but no details of those adults are ever shared. We report these anonymous data to let other people learn more about risks.
We are not aware of any insurance that covers the costs of tick testing at this time. TickReport™ tests assess the risk of exposure by detecting for disease causing pathogens from the tick sample provided, it is not a medical diagnosis for the presence of any disease in the host (human or animal) bitten by the tick. Think of a tick test as being similar to a carbon monoxide detector in your home: the detector does not diagnose the effects of carbon monoxide on the occupants of the home, but provides essential information to enable making informed decisions based on risk exposure.
View All FAQs
Client Reviews
96% of our clients would recommend TickReport™ to a family member or friend.
A great service and a surprisingly well-thought out, easy to use, and functional web interface.

Client from Woodstock, NY

Process was done so efficiently and it's very helpful to know what one is dealing with to inform the next steps.

Client from Mattapoisett, MA

The whole process was easy, amazingly fast and I'd recommend anyone to use this service!

Client from Middle Grove, NY